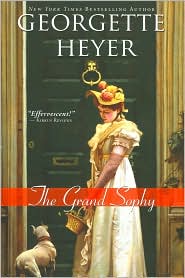 I just finished The Grand Sophy by Georgette Hyer. Ms. Hyer is one of my favorite authors and the queen of Regency Romance. I've never read one of her books that I didn't enjoy, but The Grand Sophy is now my absolute favorite.
The main character, Sophy, is an incredibly memorable character. She's not traditionally beautiful or intelligent. She's no heroine to be rescued and she really doesn't have the usual problems to overcome in order to win her love. Her whole purpose in life is to untangle the affairs that the people around her get themselves into–and she does it with unparalleled creativity. She's also a straightforward, plain-spoken female in Regency England–certainly a rarity.
What is wonderful about Ms. Hyer, is that she not only sketches a wholly original character in Sophy, she doesn't skimp on the other characters in the book. The hero, Charles, is barely likeable, but he has a way with animals and a sense of humor that save him. Miss Wraxton (a bluestocking!) is perfectly persnickety without becoming a caricature. And Sancia, the lazy Spanish lady engaged to Sophy's father, charms the reader by falling asleep in front of company at one point and unexpectedly knowing how to cook at another–all without breaking character.
Writers are encouraged to create unique, memorable characters each with his or her own voice, quirks and style. In The Grand Sophy Georgette Hyer has written a textbook for the author in need of character-training.
Q4U- Who is the most memorable character you've ever encountered in a book?